Author bio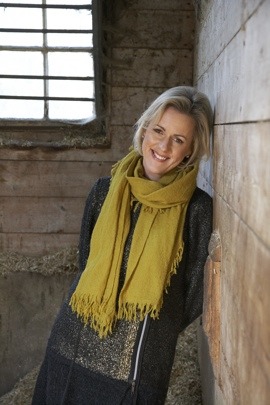 Jojo Moyes - book author
Jojo Moyes is a British novelist.

Moyes studied at Royal Holloway, University of London. She won a bursary financed by The Independent newspaper to study journalism at City University and subsequently worked for The Independent for 10 years. In 2001 she became a full time novelist.

Moyes' novel Foreign Fruit won the Romantic Novelists' Association (RNA) Romantic Novel of the Year in 2004.

She is married to journalist Charles Arthur and has three children.
Jojo Moyes is the author of books: Me Before You (Me Before You, #1), The Giver of Stars, After You (Me Before You, #2), One Plus One, The Girl You Left Behind, Still Me (Me Before You, #3), The Last Letter from Your Lover, Paris for One and Other Stories, The Ship of Brides, Silver Bay
Author Books
01
From the #1 New York Times bestselling author of The Giver of Stars, discover the love story that captured over 20 million hearts in Me Before You, After You, and Still Me.

They had nothing in common until love gave them everything to lose . . .

Louisa Clark is an ordinary girl living an exceedingly ordinary life—steady boyfriend, close family—who has barely been farther afield than their tiny village. She takes a badly needed job working for ex–Master of the Universe Will Traynor, who is wheelchair bound after an accident. Will has always lived a huge life—big deals, extreme sports, worldwide travel—and now he's pretty sure he cannot live the way he is.

Will is acerbic, moody, bossy—but Lou refuses to treat him with kid gloves, and soon his happiness means more to her than she expected. When she learns that Will has shocking plans of his own, she sets out to show him that life is still worth living.

A Love Story for this generation and perfect for fans of John Green's The Fault in Our Stars, Me Before You brings to life two people who couldn't have less in common—a heartbreakingly romantic novel that asks, What do you do when making the person you love happy also means breaking your own heart?
02
From the author of Me Before You, set in Depression-era America, a breathtaking story of five extraordinary women and their remarkable journey through the mountains of Kentucky and beyond.

Alice Wright marries handsome American Bennett Van Cleve hoping to escape her stifling life in England. But small-town Kentucky quickly proves equally claustrophobic, especially living alongside her overbearing father-in-law. So when a call goes out for a team of women to deliver books as part of Eleanor Roosevelt's new traveling library, Alice signs on enthusiastically.

The leader, and soon Alice's greatest ally, is Margery, a smart-talking, self-sufficient woman who's never asked a man's permission for anything. They will be joined by three other singular women who become known as the Packhorse Librarians of Kentucky.

What happens to them–and to the men they love–becomes an unforgettable drama of loyalty, justice, humanity and passion. These heroic women refuse to be cowed by men or by convention. And though they face all kinds of dangers in a landscape that is at times breathtakingly beautiful, at others brutal, they're committed to their job: bringing books to people who have never had any, arming them with facts that will change their lives.

Based on a true story rooted in America's past, The Giver of Stars is unparalleled in its scope and epic in its storytelling. Funny, heartbreaking, enthralling, it is destined to become a modern classic–a richly rewarding novel of women's friendship, of true love, and of what happens when we reach beyond our grasp for the great beyond.
03
From the New York Times bestselling author of The Giver of Stars, discover the love story that captured over 20 million hearts in Me Before You, After You, and Still Me.

"You're going to feel uncomfortable in your new world for a bit. But I hope you feel a bit exhilarated too. Live boldly. Push yourself. Don't settle. Just live well. Just live. Love, Will."

How do you move on after losing the person you loved? How do you build a life worth living?

Louisa Clark is no longer just an ordinary girl living an ordinary life. After the transformative six months spent with Will Traynor, she is struggling without him. When an extraordinary accident forces Lou to return home to her family, she can't help but feel she's right back where she started.

Her body heals, but Lou herself knows that she needs to be kick-started back to life. Which is how she ends up in a church basement with the members of the Moving On support group, who share insights, laughter, frustrations, and terrible cookies. They will also lead her to the strong, capable Sam Fielding—the paramedic, whose business is life and death, and the one man who might be able to understand her. Then a figure from Will's past appears and hijacks all her plans, propelling her into a very different future. . . .

For Lou Clark, life after Will Traynor means learning to fall in love again, with all the risks that brings. But here Jojo Moyes gives us two families, as real as our own, whose joys and sorrows will touch you deeply, and where both changes and surprises await.
04
One single mom. One chaotic family. One quirky stranger. One irresistible love story from the New York Times bestselling author of The Giver of Stars

 
American audiences have fallen in love with Jojo Moyes. Ever since she debuted Stateside she has captivated readers and reviewers alike, and hit the New York Times bestseller list with the word-of-mouth sensation Me Before You. Now, with One Plus One, she's written another contemporary opposites-attract love story.
 
Suppose your life sucks. A lot. Your husband has done a vanishing act, your teenage stepson is being bullied, and your math whiz daughter has a once-in-a-lifetime opportunity that you can't afford to pay for. That's Jess's life in a nutshell—until an unexpected knight in shining armor offers to rescue them. Only Jess's knight turns out to be Geeky Ed, the obnoxious tech millionaire whose vacation home she happens to clean. But Ed has big problems of his own, and driving the dysfunctional family to the Math Olympiad feels like his first unselfish act in ages . . . maybe ever.
 
One Plus One is Jojo Moyes at her astounding best. You'll laugh, you'll weep, and when you flip the last page, you'll want to start all over again.
05
From the New York Times bestselling author of The Giver of Stars, a sweeping bestseller of love and loss, deftly weaving two journeys from World War I France to present day London.

Paris, World War I. Sophie Lefèvre must keep her family safe while her adored husband, Édouard, fights at the front. When their town falls to the Germans, Sophie is forced to serve them every evening at her hotel. From the moment the new Kommandant sets eyes on Sophie's portrait—painted by her artist husband—a dangerous obsession is born.

Almost a century later in London, Sophie's portrait hangs in the home of Liv Halston, a wedding gift from her young husband before his sudden death. After a chance encounter reveals the portrait's true worth, a battle begins over its troubled history and Liv's world is turned upside all over again.
06
From the #1 New York Times bestselling author Jojo Moyes, a new book featuring her iconic heroine of Me Before You and After You, Louisa Clark.

Louisa Clark arrives in New York ready to start a new life, confident that she can embrace this new adventure and keep her relationship with Ambulance Sam alive across several thousand miles. She steps into the world of the superrich, working for Leonard Gopnik and his much younger second wife, Agnes. Lou is determined to get the most out of the experience and throws herself into her new job and New York life.

As she begins to mix in New York high society, Lou meets Joshua Ryan, a man who brings with him a whisper of her past. Before long, Lou finds herself torn between Fifth Avenue where she works and the treasure-filled vintage clothing store where she actually feels at home. And when matters come to a head, she has to ask herself: Who is Louisa Clark? And how do you find the courage to follow your heart—wherever that may lead?

Funny, romantic, and poignant, Still Me follows Lou as she navigates how to stay true to herself, while pushing to live boldly in her brave new world.
07
From the #1 New York Times bestselling author of The Giver of Stars, a sophisticated, page-turning double love story spanning forty years and an unforgettable Brief Encounter for our times

It is 1960. When Jennifer Stirling wakes up in the hospital, she can remember nothing-not the tragic car accident that put her there, not her husband, not even who she is. She feels like a stranger in her own life until she stumbles upon an impassioned letter, signed simply "B", asking her to leave her husband.

Years later, in 2003, a journalist named Ellie discovers the same enigmatic letter in a forgotten file in her newspaper's archives. She becomes obsessed by the story and hopeful that it can resurrect her faltering career. Perhaps if these lovers had a happy ending she will find one to her own complicated love life, too. Ellie's search will rewrite history and help her see the truth about her own modern romance.

A spellbinding, intoxicating love story with a knockout ending, The Last Letter from Your Lover will appeal to the readers who have made One Day and The Guernsey Literary and Potato Peel Pie Society bestsellers.
08
Paris for One is quintessential Jojo Moyes--as are the other stories that round out the collection.
09
From the New York Times bestselling author of The Giver of Stars, in an earlier work available in the U.S. for the first time, a post-WWII story of the war brides who crossed the seas by the thousands to face their unknown futures.

1946. World War II has ended and all over the world, young women are beginning to fulfill the promises made to the men they wed in wartime.

In Sydney, Australia, four women join 650 other war brides on an extraordinary voyage to England—aboard HMS Victoria, which still carries not just arms and aircraft but a thousand naval officers. Rules are strictly enforced, from the aircraft carrier's captain down to the lowliest young deckhand. But the men and the brides will find their lives intertwined despite the Navy's ironclad sanctions. And for Frances Mackenzie, the complicated young woman whose past comes back to haunt her far from home, the journey will change her life in ways she never could have predicted—forever.
10
From the New York Times bestselling author of The Giver of Stars, in an earlier work available in the U.S. for the first time, a surprising and moving romance set in an old-fashioned seaside town on the verge of unwelcome change

Liza McCullen will never fully escape her past. But the unspoiled beaches and tight-knit community of Silver Bay offer the freedom and safety she craves—if not for herself, then for her young daughter, Hannah. That is, until Mike Dormer arrives as a guest in her aunt's hotel.

The mild-mannered Englishman with his too-smart clothes and distracting eyes could destroy everything Liza has worked so hard to protect: not only the family business and the bay that harbors her beloved whales, but also her conviction that she will never love—never deserve to love—again.

For his part, Mike Dormer is expecting just another business deal—an easy job kick-starting a resort in a small seaside town ripe for development. But he finds that he doesn't quite know what to make of the eccentric inhabitants of the ramshackle Silver Bay Hotel, especially not enigmatic Liza McCullen, and their claim to the surrounding waters.

As the development begins to take on a momentum of its own, Mike's and Liza's worlds collide in this hugely affecting and irresistible tale full of Jojo Moyes's signature humor and generosity.